Medium
NDTip – Submit a Tip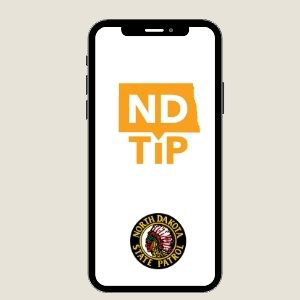 Submit an anonymous tip to the North Dakota Highway Patrol using the tip411 system to inform NDHP about crimes, suspicious activity, or traffic concerns on North Dakota roadways.
Please note, this program is NOT a substitute for calling 911. If you witness a crime in progress, to include an impaired or reckless driver, or have an emergency, call 911.
Tip submissions to the NDHP are NOT monitored 24/7 and may not be seen for up to 72 hours.
There are three ways to send a tip:
Option 1: Text Message 
To send an anonymous tip via text message, open a text message and enter 847411 (tip411) in the "To" field. In the body of the text, enter NDHP, type a space, and then add your tip.
Option 2: Web-Based Tip (complete this form).
Once installed, open the app and select "New Tip."
Choose the law enforcement agency which corresponds to the location of the crime. You can select Highway Patrol or your local Sheriff's Department.
Provide any relevant information in your tip as to what crime occurred or where, you can also include an image by selecting the camera icon.
Once your information has been entered, select the "Submit" button.
You should receive confirmation your tip was sent, and an officer may respond for more information.