Medium
| | | | |
| --- | --- | --- | --- |
| Agency: | Legal Counsel for Indigents, ND Commission on | Report Date: | September 15, 2017 |
| Type: | Operational | LAFRC Date: | January 10, 2018 |
| Issued By: | State Auditor | Period Ending: | June 30, 2017 |
Report Highlights
Internal Control: We evaluated and tested high risk areas including: payroll, expenditures, and controls related to compliance with legislative intent.
We did not note any deficiencies that are required to be brought to the attention of those charged with governance.
Legislative Intent: We evaluated and tested high risk areas including: travel-related expenditures, compliance with OMB's Purchasing Procedures Manual, proper authorization of funds, and appropriation laws and adjustments.
We concluded there was compliance with the legislative intent.
Financial:
Fiscal year 2017 revenues and other sources include $389,000 of transfers from the Strategic Investment and Improvements Fund, and $76,759 of intergovernmental reimbursements from the North Dakota Adjutant General's Office. Neither of these types of transfers were received during fiscal year 2016. The intergovernmental reimbursements were related to expenses incurred from Dakota Access Pipeline activity.
Operations
During this audit, we did not identify any areas of operational improvement.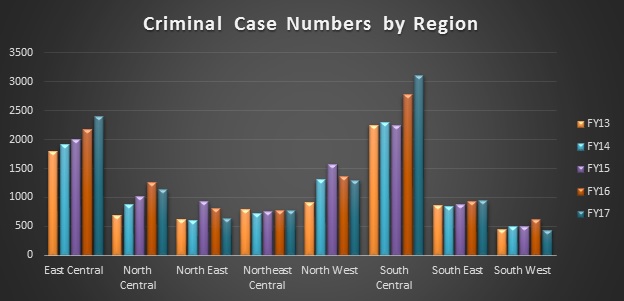 Source: North Dakota Commission on Legal Counsel for Indigents
[pdf] Download Report